In addition to the life benefits it provides, feng shui also offers a roadmap, so to speak, of not just how to decorate your space, but why, and this is never more important than it is when it comes to decorating your child's bedroom.
Naturally, children must feel safe, secure, and cared for to thrive, and feng shui offers guidelines that help foster those feelings. Feng shui believes that children can enjoy good health, growth, and happiness when the environment supports them.
Here are 7 ways to use feng shui in a child's bedroom is to create a healthy, happy and positive environment.
1.  Put the child's bed in the command position.
Make sure your child can see the door from his or her bed easily, but is not in direct line with the door. Position the bed so there is a solid wall behind it and that the bed has a nice, solid headboard. Make sure you child's bed doesn't share a wall with a toilet or see a toilet or bathroom from the bed as this can cause health problems.
Bunk beds are also not advised. Children need room to grow and the bed overhead exerts pressure on the child below. Because there is empty space below them, children on the top bunk may feel less secure.
This also means that children shouldn't sleep under sloping ceilings as this can cause depression or insecurities, or health issues like headaches. Avoid pushing a child's bed into a corner because this can cause energy that creates defensiveness, insecurity, and sometimes, bullying.
If possible, try to have a separate bedroom for each child. If this isn't possible, there are lots of decorative ways to create division and privacy within a room so that each child has their own space.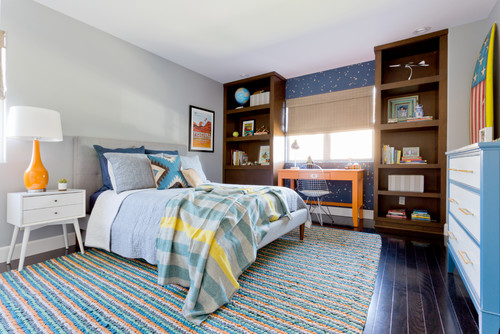 2. Create relationship harmony and happiness in your child's bedroom.
A photo of the whole family is helpful for creating loving bonds with the child for his or her family. Often, parents have photos of their children in the bedroom, but children don't have a photo of their parents in their own bedrooms.
This is opposite of what feng shui recommends.
Parents should not have photos of their children in their bedroom, but children should one of their parents as a way of promoting their feelings of being loved.
Having a photo of the parents can often be helpful is the child is misbehaving as it subtly exerts the authority of the parents.
3. Make the decor balanced to encourage a balanced child.
Remember to feng shui focus on a balance when decorating your child's bedroom. That means there should be a harmony of decorative elements and colors in the decor.
A bedroom that has a strong element, such as water, fire, or wood (jungle scenes), can all create imbalances of energies, and that could create difficulties for your child.
For instance, a blue bedroom with beach or ocean murals will exert too much water energy and that can create an unhealthy environment and may even lead to respiratory ailments. This is especially important if the child has any health problems, particularly asthma or breathing problems.
Strong red or primary colors may also be overly stimulating. Too many bright colors can prevent deep sleep and that can affect the child's health, such as their growth, and influence their behavior.
A restful, neutral bedroom with colored accents is one way to ensure the bedroom is well-balanced for study, play, and rest.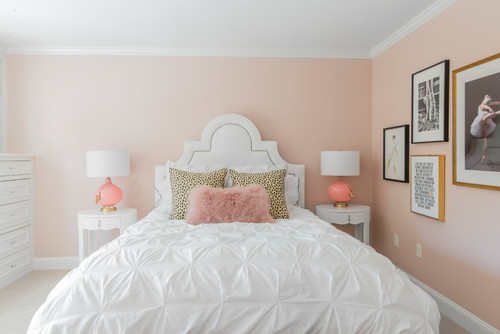 4. Avoid dark environments and choose light-filled rooms.
A room should inspire and intrigue a child to learn and promote his or her sense of imagination and creativity. Select decorative items and symbols that create curiosity, such as a globe or solar system mobile.
Avoid large clocks, ferocious or scary animals, and instead choose images of role models such as Olympic athletes, writers, maps, or sports your child is interested in.
Ensure there is plenty of lighting, especially natural light. Add lighting for the desk and bedside table, but do be sure that windows can be closed off for privacy.
5. Create a space for study and accomplishments.
Having a dedicated space, including a desk and lamp where your child can study, demonstrates the importance of education, encourages your child's educational achievement, and builds their esteem.
To encourage academic progress, create a reading or study corner in the northeast, or education, corner of the bedroom. If space is tight, add artwork that encourages education. Try to position the desk so that your child can see the door.
To build up confidence, add a wall that lets them see their accomplishments. Display drawings, crafts, awards, trophies, ribbons, or other special items, such as tests with good scores or letters from teachers.
Place items here that have brought special recognition. Doing so reinforces that you are proud of your child's efforts and builds up their personal positivity.
6. Clear clutter so your child can rest and be creative.
Cluttered rooms can create unhappy kids. Creating space and visual openness helps your child to feel less pressured, and more likely to be imaginative and creative. More is definitely not more when it comes to kids.
Shelves or closets that are stuffed full of knickknacks, toys and items can exert excess pressure. Give your child some open, clear space that gives them a visual rest in their bedroom. This will help them relax, rest more fully and feel more contented.
7.  Avoid electronics in a child's bedroom.
A child's bedroom should be a place of rest. With so many electronics, such as TVs, computers, and tablets or phones available in our age of technology, it's important that children have a break from all of this with a space that is technology-free. This is helpful for children so they can fully disconnect in the bedroom and be more rested.